Old urinal, vintage Crane pedestal urinal 

SOLD
This old urinal, is a vintage Crane Pedestal urinal that mounts to a four inch toilet flange and may flush with a Sloan Flushometer valve. It is one of the fixtures I purchased recently at the auction which was part of the dissolution of the old McCoy Plumbing Company in Portland Oregon.

I particularly like this fixture, being that I am partial to early Crane products. It is that old white, the antique white that was used for vitreous chinaware before the modern "bright white" became the standard. It has the rounded base of fixtures made in the first decades of the twentieth century, unlike art deco influenced fixtures with their straight lines, squared, and forty degree corners.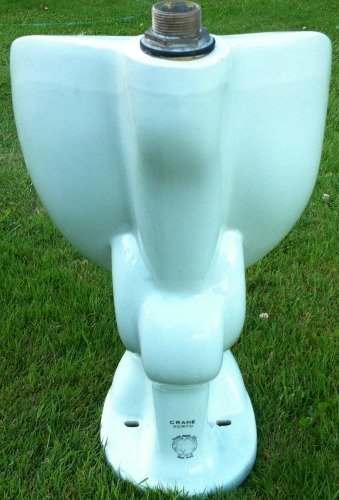 The existing spud fits an 1-1/4 inch Sloan flushometer. A high wall tank could also be used to provide water to flush this fine old urinal. Aside from the charm of a high wall tank, using one would allow a regular 1/2 inch supply pipe to be used instead of the 3/4 inch pipe a flushometer valve would require.

Like the early toilets it shares its rounded features with, this vintage urinal has a horn that penetrates the toilet flange. When a toilet has such a horn it must be set on a full 4 inch flange, not a 4x3 flange. This antique urinal by Crane will also require a full 4 inch toilet flange.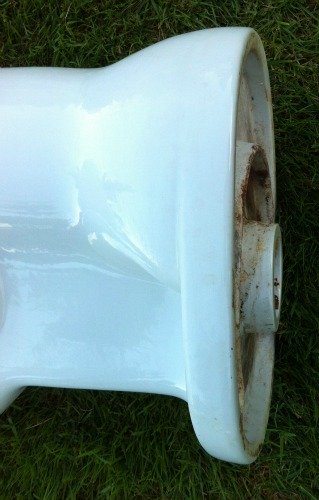 This vintage urinal is in very good condition. There are no chips, and only shallow scratches. As I do with most of my used fixtures I washed antique urinal and then treated it with a product called "Wink" before I photographed it. Wink removes the stains old fixtures accumulate leaving only the flaws that were present under the glaze when the fixture was new.

Return to Vintage plumbing buy-sell-trade page