Antique Faucet Repair

The plumbing geek can help with your antique faucet repair needs. If you have vintage faucets and valves in your home you probably know that the average plumber will not work on them. You may have been told that your plumbing fixtures cannot be repaired and must be replaced. In almost every case this is not true. Your fine old plumbing fixtures are probably just waiting for the right person to work on them. Antique faucet repair requires the mind that rises to any challenge, the soul that sees beauty in the coming together of form and function, and the hands of one who has worked toward mastership for decades.      

Reconditioned and Restored Fixtures Now Available

Over the last few years I have focused on increasing my stock of vintage fixtures. This includes both complete fixtures and parts of fixtures. Formerly I had this stock available for select clients and my own needs, as I am often called upon to provide correct parts in order to complete a project. 
Because my collection is becoming too large for my storage space I am making a change. In the past I would only recondition fixtures when I had a buyer for them but now I am working on them in anticipation of listing them on these pages. Some fixtures will be simply reconditioned so that their function is restored but their form presents the appearance that only time can produce. Other fixtures will be fully restored, having been plated in fresh nickel or chrome.
I will list both complete fixtures and parts of fixtures. Complete fixtures include tubs with their valves and drains, lavatories with their faucets, faucets and valves ready to be installed on tubs and lavs, and toilets with their internal parts replaced. Parts of fixtures will include orphaned valves from lavs or tubs, original handles and trims, toilet tank lids, and a wide variety of vintage porcelain trims.  

In order to view my available stock look for links at the bottom of this page or refer to the site map.
If you see something you like but would prefer it fully restored let me know via my contact page. Do likewise if you are searching for something you don't see in my stock.

Ship Your Antique Faucet Repair Project To My Bench

Every repair featured on this page was done on my bench, in my shop. Since 2012 the plumbing geek is accepting restoration projects that can be shipped to the shop in Gladstone, Oregon. See our contact information at the bottom of this, the antique faucet repair page.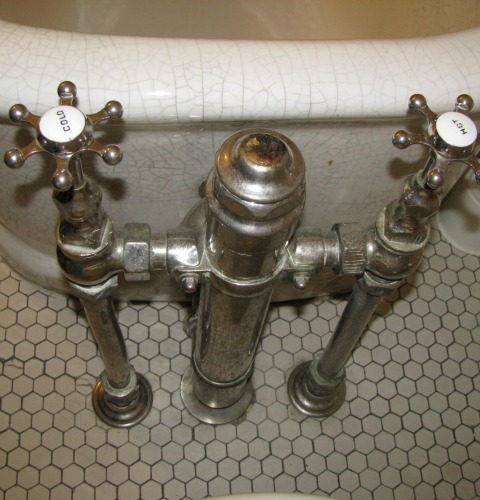 Here is a typical hundred year old standing waste tub filler assembly on a china tub. 

Here is the same fixture with the valves removed. The supply risers have no service valves so "Jetswet" tools have been set in the risers while the water was off. Zip ties have been applied to the tool handles for extra security.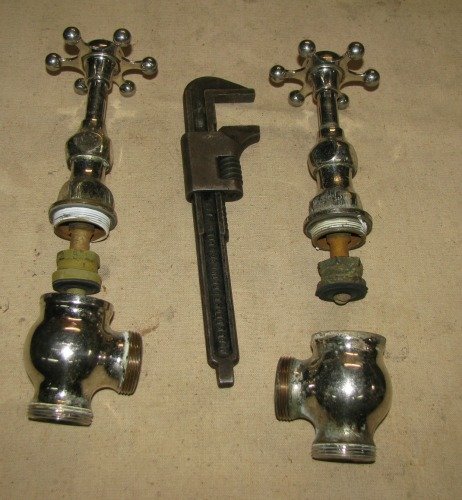 Here are those valves on my bench awaiting restoration.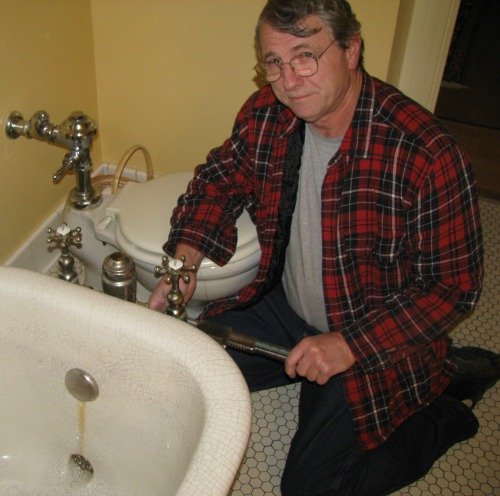 In this case I was on the job, but now I am receiving valves like these via parcel post.
In one case I contacted a local plumber, explained the removal of the valves and the setting of the "Jetswet tools", and received his assurance that he would take the work. I then gave his contact information to the home owner and let them arrange and schedule the removal and resetting of the valves. I spoke on the phone with the local plumber but all communication with the home owner was via email. They had tenaciously resisted removing the old tub and filler, hoping to have it repaired. The tub, which is in Berlin, Wisconsin, is now working properly. I also replaced the rotted end of the inner waste tube, which was sent along with the valves, so the tub is holding water again, as it should.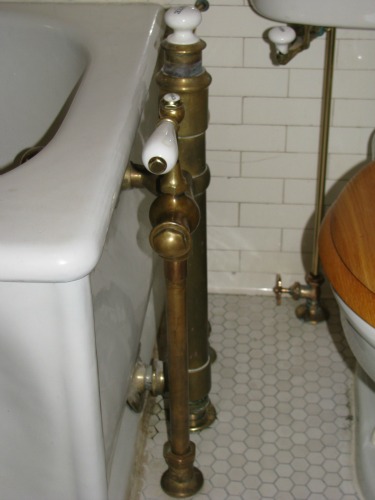 Here is another standing waste assembly. This old beauty has fuller ball valves that had not been under pressure for ten years, having been turned off in the basement. Note the unions near the floor that allowed me to remove the risers as well.

Here are those valves and risers on my bench.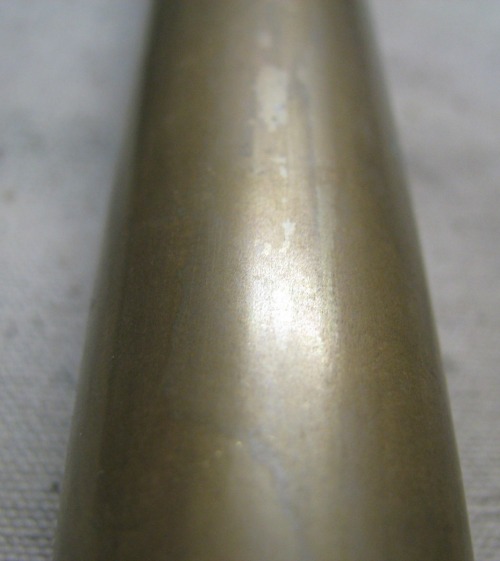 Oddly, one riser (hidden from view in the photo) was nickle plated while the rest of the valving was bare brass. I was asked to make it match.  

Here is how that tube came back from the plater, stripped and polished.

After being treated with sulfur fumes it had this dulled look that was a fair match for the rest of the brass valving.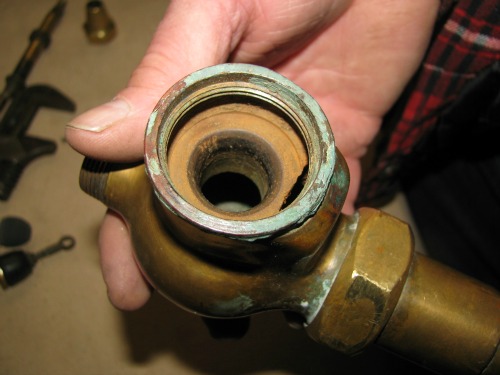 The old valve seats were dark and pitted.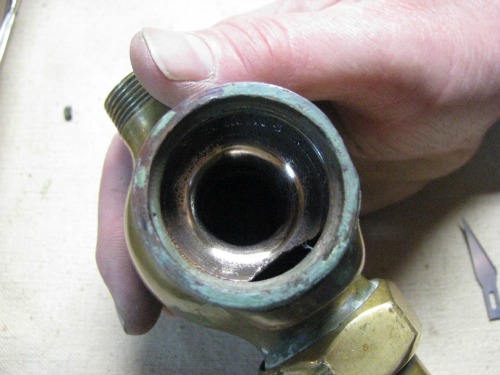 Honing with very fine emery at high speed left them ready for new rubber. This was an early job and I was using rubber to make my new fuller balls. The rust that came into the valves from the pipes that had been unused for ten years ate up my new rubber fuller balls so I acquired a thick sheet of neoprene and made new fuller balls from that. All my fuller balls are now made from neoprene and stand up very well to use with old plumbing pipe.

This is for one of my latest projects, another standing waste fuller ball valve that was sent to me from Spokane, Washington. Note in the photo the front plate of the lathe I used to turn this new lower fuller ball stem. On it is one of my own neoprene fuller balls with cap, nut, and lock nut.

This valve is part of a rib cage shower I am currently working on. Note the dark and rust encrusted washer seat.

Now that seat is ready for a new washer. Washers of this size, 1-7/16ths inch in diameter I must cut from my own rubber stock.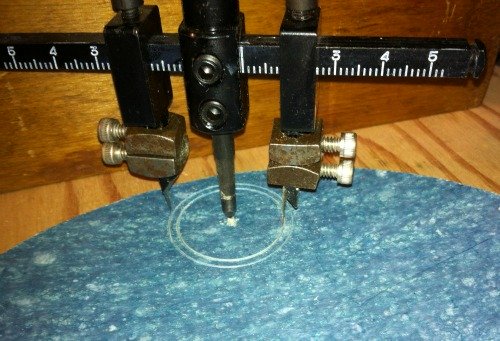 Gaskets and washers are cut with my modified cutting tool from stock I acquire at Empire Rubber and Supply Co. and other material wholesalers.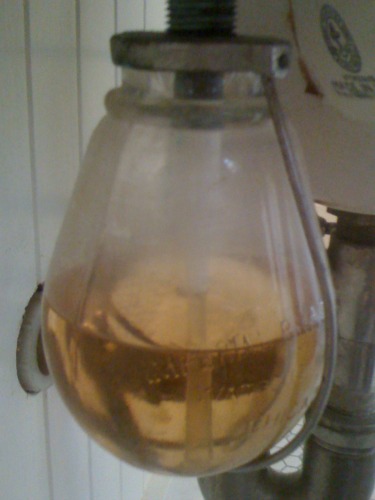 This is one of my early restoration projects. This bottle supplies a vintage commercial soap dispenser that one of my clients wanted to mount on his bathroom basin next to an old one hole faucet. Soap is a caustic so of course the original brass pickup tube was mostly dissolved. In a few hours I fashioned an adapter that allowed me to retro-fit the bottle with a modern clear plastic pickup assembly. It worked well; the plastic is hard to see and will not clog the way a brass tube would.
Notice the marking on the china fixture indicating it was made by Maddock's and Sons Co.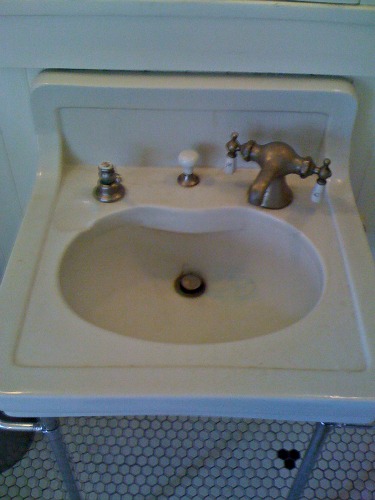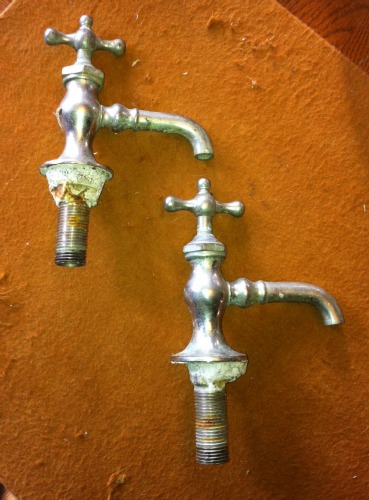 Vintage lavatory taps like these present no great challenge if the stems are not stripped. I have a tool with which I can tap threads into the old non-removable seats and replace them with removable seats.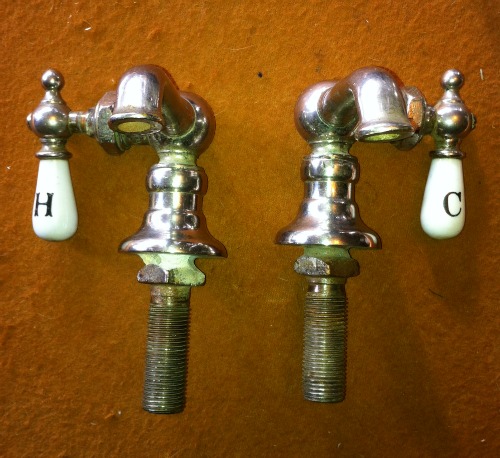 These fuller ball lavatory taps are more attractive, more challenging, and therefore more fun to restore. I often have taps, and other valving that await restoration. I did not restore them until I had a buyer for them but now taps like these are going on their own pages, ready to go. Look for page links below.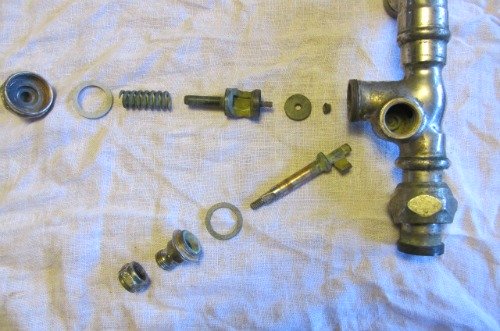 Here is another part of the rib cage shower I am restoring. This is a spring-loaded valve that operates the large overhead shower head. The gaskets shown in the exploded view layout are small so I was able to find them in one of my vintage repair kit assortments.

Any valve, or part of a valve, that may be removed from its placement and shipped is fodder for my work bench. The beautiful Crane Lavatory featured on my home page once had a broken-away waste knob. The knob handle in the photo is one I refitted. It looks like it was original to the faucet doesn't it? Inner waste tubes for lavatory faucets and standing wastes are among the items I will restore.
Newly made replacement stems and handles for very old valves can be had for reasonable prices. I order parts often from my supplier, I can provide correct parts for you.

Return to home page from Antique Faucet Repair